"Rear Window"
LIBRARY THIRD FLOOR SCREENINGS
Feature Film Presentations Wednesday Evenings…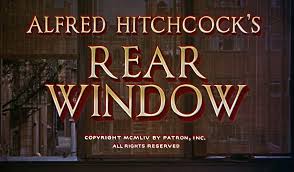 ALFRED HITCHCOCK's
1954 Paramount MASTERPIECE
Suspense Thriller AND Classic
AA nomination Best Film…
Hitchcock's Fourth!
"REAR WINDOW"…
Starring:
James Stewart,
Grace Kelly, "Thorwald", Thelma Ritter, and
Wendall Corey.
A new Restored Classic in
Technicolor
Refreshments served.
James Stewart stars as a globe-Trotting news photographer, sidelined by a broken leg and confined
to a wheelchair in his sweltering Greenwich Village apartment.
To pass the time, he uses his Camera's telephoto lens to spy on his neighbors and begins to suspect that … Well … We will have to wait and find out!
The Purest Form of the Cinema… subjective in treatment putting the audience in the mind of the character.
Based on a short story by
CORNELL WOOLRICH.
And… What about our film?
"You Can Count the number of
Kitty Cat scenes – Yes! There are
Lots of Cat Actors in our Film.
You and me, Kitty Cats,
and Hitchcock too…
August 28, 2019
7:00pm to 9:00pm
On the 3rd Floor
At
Mark and Emily Turner Memorial Library and Cultural Center
39 Second Street, Presque Isle, Maine 04769
Questions Call (207)764-2571